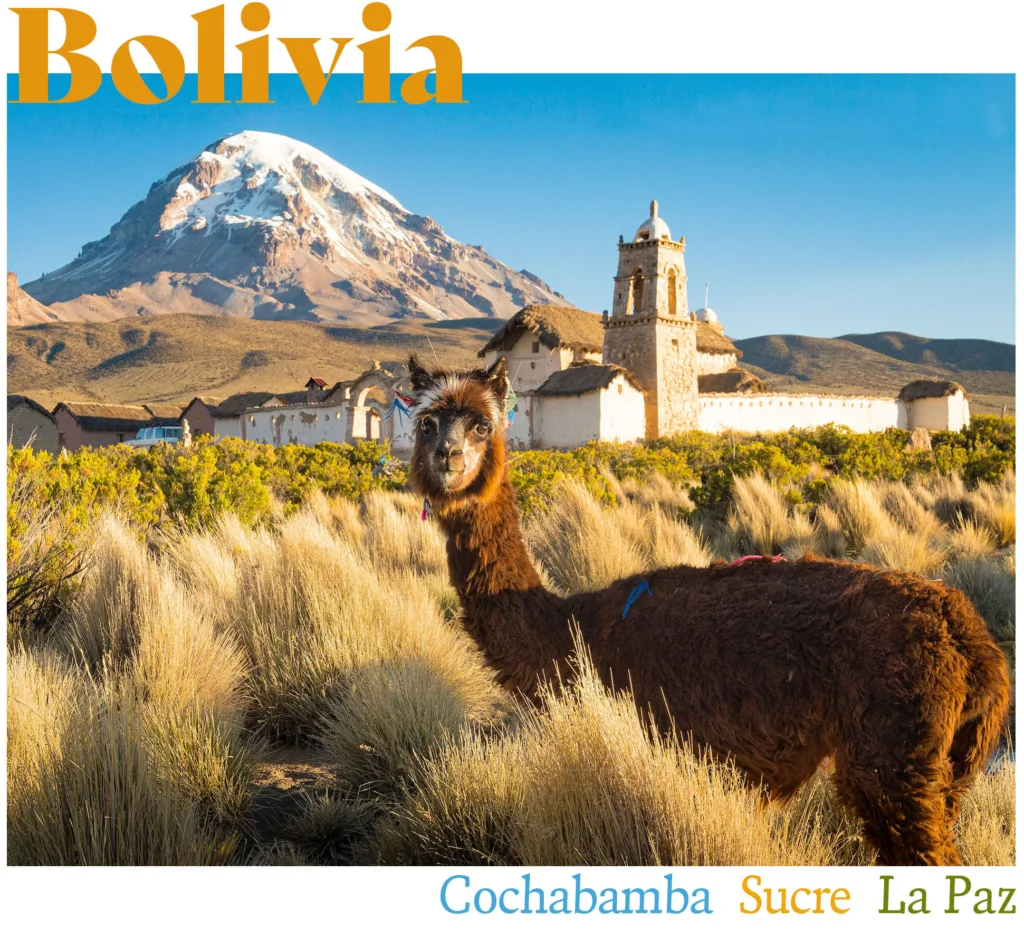 November 13th -21st, 2024
A Musical Journey Like Never Before
Get ready to be part of our largest artist-host group to date! Join us on a once-in-a-lifetime tour of Bolivia, where five extraordinary musical artists will take you on a captivating adventure of a country known for its stunning and diverse landscapes, rich cultural heritage, and a fascinating blend of indigenous and colonial influences.
Meet the Maestros
Embark on a cultural voyage with our Bolivian hosts, Gian-Carla Tisera and Amado Espinoza, showcasing their rich heritage from Cochabamba. Artistic director Beau Bledsoe of Ensemble Iberica adds musical expertise to the mix.
Embark on a melodic adventure as you indulge in the virtuosity of Buenos Aires' tango violinist, Christine Brebes. With Colombian guitarist/vocalist Nilko Andreas, extraordinary Turkish cellist Ezgi Karakus, and the guiding touch of executive director Erin McGrane, our ensemble promises a seamless and unforgettable musical experience. Join us for a journey that transcends borders, uniting diverse talents in a harmonious celebration!"

Nilko Andreas: guitar/vocals, Christine Brebes: violin, Ezgi Karakus: cello, Amado Espinoza: charango/flutes, Gian-Carla Tisera: vocals, Beau Bledsoe: guitars
Wednesday, November 13th: Cochabamba Unveiled: Your Journey Begins
Upon your arrival in Cochabamba, we'll transport you to the esteemed Gran Hotel Cochabamba, a designated Historical Heritage site and one of Bolivia's top 5-star luxury hotels. Enjoy the lavish amenities, from swimming pools to three remarkable restaurants and an on-site spa.
In the evening, we'll gather for a Welcome Reception at the hotel's Toulouse Whisky Bar, followed by a delectable dinner and live musical performances from local artists. Experience Cochabamba's finest with us.


Thursday, Nov. 14th: Cultural Exploration in Cochabamba Valley
Today, we'll embark on a cultural tour through the enchanting Cochabamba Valley, visiting Cliza, Punata, and Tarata.
In Cliza and Punata, you'll enjoy traditional music, dance, and sample local delicacies like the tradtional ancestral corn-brewed chicha. Engage with elders and locals to learn about ancient traditions, and browse vibrant markets.
Tarata: Colonial Charm
Explore Tarata, known for its well-preserved colonial architecture. Visit the Tarata convent's captivating museum and shop for local pottery and handcrafted goods. For the adventurous, try chicha at shops marked by a white cloth diamond.
We'll conclude our tour at Cristo de la Concordia monument, where you can savor breathtaking views of Cochabamba City.
Concert No. 1
An Evening of Culinary Delights and Music
Tonight, delight in a special dinner at Muela del Diablo, featuring Truffle Pizza and signature gourmet cocktails. Enjoy a musical concert featuring Ensemble Iberica curated by Amado Espinoza. It's a day filled with culture and culinary adventures in the heart of Cochabamba Valley.


Friday, Nov. 15th:

Sucre Unveiled: Bolivia's Historical Marvel
Today, we'll check out of our current hotel and catch a quick in-country flight to Sucre, Bolivia's charming capital nestled in the southern highlands.
In Sucre, we'll begin our exploration at the Casa de la Libertad, a whitewashed gem that narrates the city's past as the national capital. The main square features a captivating colonial church, and the Museo Universitario Charcas awaits with its fascinating collection, including some of Bolivia's earliest Andean mummies.
Elegance at Hotel Parador Santa María La Real
Upon arrival, we'll check in at the historic Hotel Parador Santa María La Real, a beautifully restored 18th-century hotel. It perfectly blends colonial details with modern five-star amenities, offering a rooftop terrace bar with breathtaking city views.
Sucre: A Latin American Gem
National Geographic hails Sucre as one of the most interesting and historic cities in Latin America famous for its many paleontological sites. You'll have the rest of the day to explore the city at your own pace or with a guide arranged by our host, Gian-Carla Tisera.
Tonight, we'll dine at La Culta Restaurant, renowned for its Ajenjo, an anisette-based drink. This culinary gem reflects the essence of Sucre's gastronomy, culture, and architecture.


Saturday, Nov. 16th: Your Day to Explore
Today is a day of freedom and exploration. You have the opportunity to discover Sucre at your own pace, or you can opt for a guided adventure with a local expert. We'll provide you with a list of recommended sites and activities, ensuring you make the most of your free day.
Concert No. 2
A Harmonious Evening at Casa de la Libertad (House of Liberty)
As the sun sets in Sucre, the Casa de la Libertad becomes the stage for a musical spectacle like no other. Maestro Rodrigo Alcoreza, a renowned countertenor, will headline an exceptional public concert featuring guest artist Nilko Andreas and soloist Gian Carla Tisera, accompanied by four captivating folkloric dancers. This performance is the result of a remarkable collaboration between Ensemble Iberica and the Casa de la Libertad Ensemble and Consort. 

Sunday, Nov. 17th: La Paz: A most extraordinary city
Today, our journey takes us to the captivating city of La Paz. We'll check out of our current hotel and embark on a swift in-country flight to reach this bustling destination. Upon arrival, you'll find respite at the Ritz Apart Hotel, a distinguished 5-star establishment located in a residential neighborhood, offering seamless access to all corners of the city. Once settled in, we invite you to indulge in a delightful late buffet lunch at the hotel, setting the stage for a remarkable stay.
The afternoon is yours to shape as you desire. Whether you wish to explore the city at your own pace or simply unwind, La Paz offers countless possibilities. We recommend a visit to the iconic Sagarnaga Street, a treasure trove of artisanal artifacts, musical instruments, and textiles, making it one of Bolivia's prime destinations for authentic craftsmanship.
An Evening of Bolivian Culture and Cuisine
As night descends, we gather at the Tusuy Bolivia Restaurant, where you'll be treated to a diverse showcase of live folkloric Bolivian music and dance. This immersive experience promises to be a memorable cultural and culinary journey.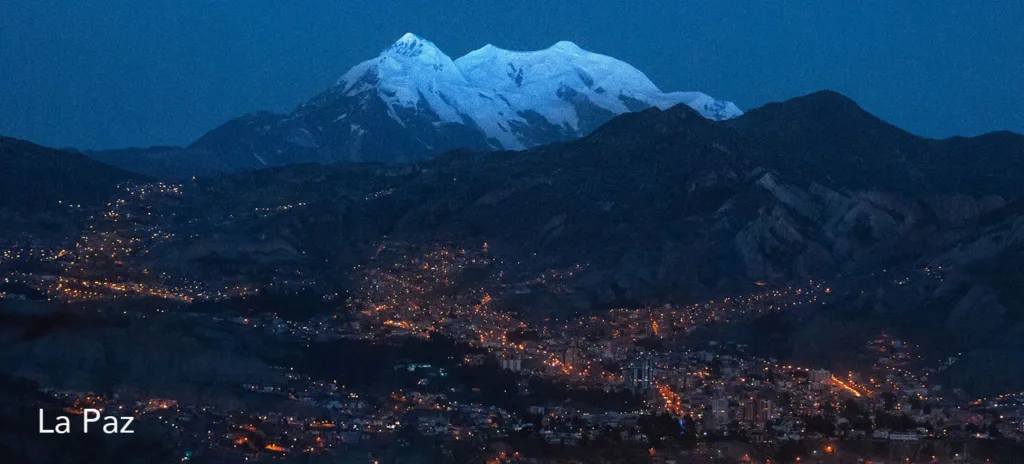 Monday, Nov. 18th: Explore the High Andean Jungle and Beyond
Today, we invite you to embark on an exhilarating day trip that promises adventure and natural beauty. A comfortable coach will be your vessel for the journey, as we set out to explore the High Andean Jungle, visit the renowned Senda Verde Wild Animal Refuge, and discover the charming tourist town of Coroico.
A Glimpse into Wildlife Conservation
Our initial destination is the Senda Verde Animal Sanctuary, an extraordinary refuge for around 900 species of wild animals, including jaguars, Andean bears, and the Blue-throated Macaw (parabas)—all rescued from the grips of illegal animal trafficking. As you tour the sanctuary, you'll witness the incredible work being done to protect and rehabilitate these creatures, and you'll even get a chance to meet some of its remarkable residents up close.
Cultural and Culinary Delights in Coroico
Following an enriching morning, we'll pause for a satisfying lunch before continuing our journey to the picturesque town of Coroico. Here, you'll have the opportunity to savor their famous high-altitude coffees, a delightful treat for coffee enthusiasts.
An Afternoon of Exploration
With the day's adventures complete, the remainder of the day is yours to explore at your leisure. We'll provide recommendations for sites to visit and restaurants to try, ensuring you make the most of your free time.


Tuesday, Nov. 19th: Your Day, Your Way 
Today is your day to chart your course in La Paz. You have the freedom to explore the city at your leisure or opt for our optional guided tour. Discover the enchanting La Paz City Center and embark on a mesmerizing journey along the Teleferico Lines, offering breathtaking views of the city's stunning landscape.
Concert No. 3
An Evening of Musical Excellence
Tonight, we gather for a public concert at the esteemed Nuna Theater, a cultural gem nestled in the southern heart of La Paz. On this memorable night, we'll be treated to a remarkable performance by Ensemble Iberica, featuring the exceptional talents of Gian-Carla Tisera and Amado Espinoza. The stage will come alive with harmonious melodies and captivating rhythms, promising an evening of musical excellence that will resonate in your memories for years to come.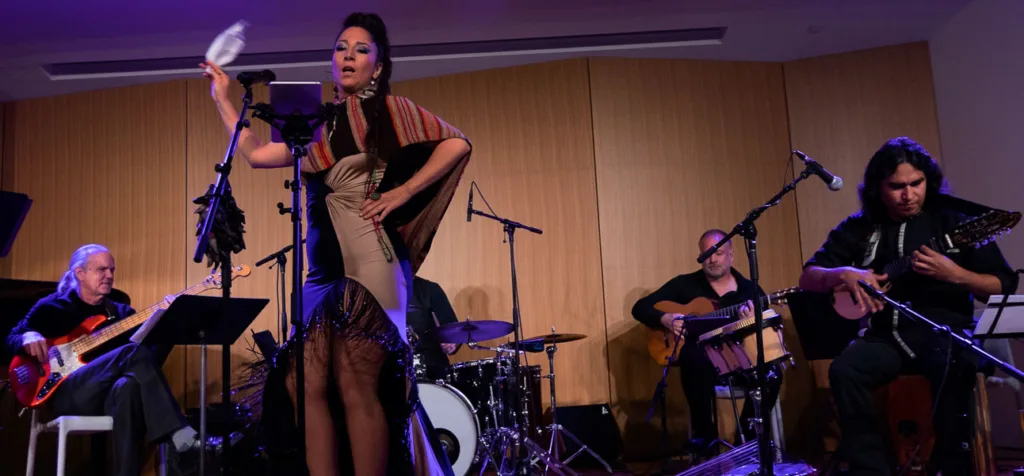 Wednesday, Nov. 20th: A Day of Cultural Discovery
Today, we invite you on a captivating journey through Bolivian culture. Our first stop is the Tiwanaku Temple and Ruins, a remarkable site representing the heart of Bolivian heritage. Here, history comes to life as we explore the rich remnants of a bygone era.
Valle De La Luna or Museo Etnografia
Alternatively, explore the enchanting Valle De La Luna, aptly named the Moon Valley. Marvel at nature's craftsmanship, sculpting mountainsides into mesmerizing optical illusions, presenting a landscape that feels otherworldly. Another option is the Museo Etnografia, a treasure trove of wonders. Immerse yourself in an extraordinary collection of ritualistic masks and stunning weavings from across the country, offering a unique opportunity to witness the artistry and traditions that have shaped Bolivia's rich and diverse heritage.
A Farewell Evening at Ritz Apart Hotel
As the day draws to a close, we gather at the Ritz Apart Hotel for our closing dinner. This is where we come together to reflect on our journey, celebrate the memories we've created, and savor a final taste of Bolivian hospitality.

Thursday, Nov. 21st: Travel Day
Transportation has been arranged to the airport for Tuesday morning flights. For people that have evening flights, we'll arrange to store luggage and suggest activities for the remaining time.
Excited to join? Sign up on our list, and we'll keep you posted with the latest updates and registration details!
Prices will be announced Dec 15th, 2023