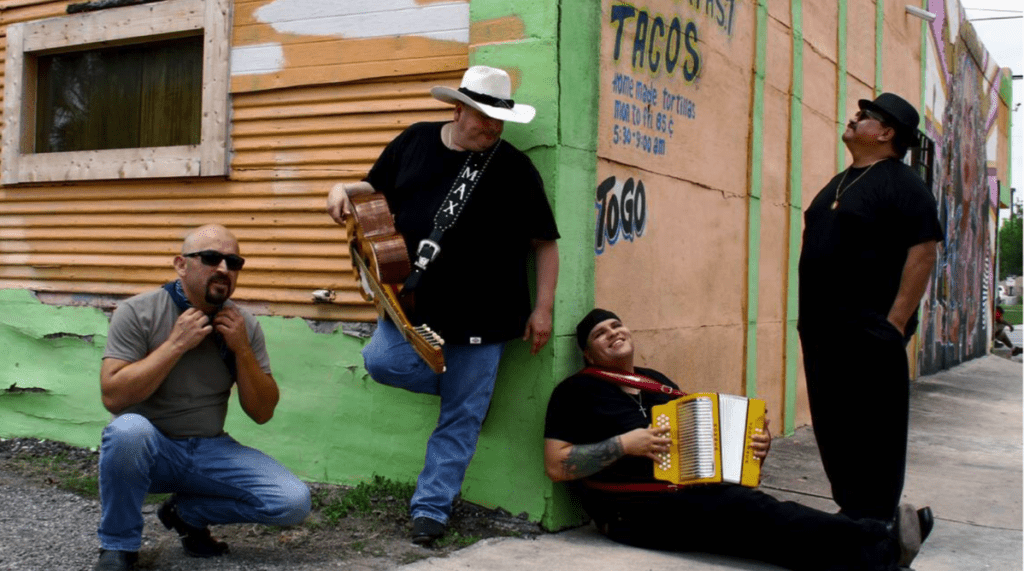 NO WALLS AT THIS BORDER
Mireya Ramos and Los Texmaniacs Bring the Conjunto Sound to Kansas City

by Patrick Neas
KC Arts Beat editor

I was feeling so happy and hopeful after hearing the most amazing concert last night featuring Los Texmaniacs and ranchera singer Mireya Ramos. Then I came home and scanned the news and saw video of masses of people at a rally chanting "Send her back, Send her back," referring to the Somali-born Ilhan Omar.

The joyful and soulful music I had just heard, a blend of European and Mexican influences, multiculturalism at its very finest, was the best kind of rebuke to the ugly racism that was being stoked at the hate-filled rally.

The Grammy-winning quartet Los Texmaniacs is made up Max Baca on bajo sexto, a twelve-stringed guitar, Josh Baca on accordion, Noel Hernandez on electric bass and drummer Lorenzo Martinez. These Smithsonian Folkways recording artists are probably the greatest proponents of conjunto, a musical genre that melds German and Bohemian styles like the polka with various Latin American traditions. It's truly a melting pot of music and a shining example of the goodness that can result when different cultures come together in harmony.

The first half of the concert at the MTH Theater in Crown Center featured Los Texmaniacs and it was was a toe-tapping delight. What made it even better was that the Texas conjunto players were joined by local band Making Movies, a group made up of extraordinary singer and guitarist Enrique Chi, bass player Diego Chi and percussionist Juan-Carlos Chaurand. As if Los Texmaniacs weren't turbo-charged enough, Making Movies took the evening to a whole other level.

The second half opened with a touching duet between Beau Bledsoe and vocalist and violinist Mireya Ramos. Ramos is also a Grammy winner and a renowned ranchera singer. Ranchera originated on the ranches of Mexico before the Mexican Revolution and covers topics like love, nature and patriotism. Ramos treated the audience to several other songs, her rich, gorgeous voice conveying every drop of emotion. She has charisma to spare and her warm, inviting personality kept the audience spellbound.

One of the best songs on the second half was a duet between Ramos and Making Movies singer and guitarist Enrique Chi. He was amazing. A wonderful singer and a dazzling guitarist, Chi also shared his thoughts about the intermingling of cultures and all of the wonders it has produced, from instruments that originated in the Middle East but ended up in European orchestras to the dances of the Old World that were adopted and transformed by native populations of the New World. His gentle and heart-felt words were well-received.

Bledsoe, playing a Telecaster guitar and wearing an eye-popping, sparkly jacket, also had a duet with Ramos. Bledsoe, who founded and is artistic director of Ensemble Iberica which presented "La Frontera," put together a show-stopping spectacular that included a cameo performance by honky tonk guitarist and singer Slim Hanson. "Waltzing Across Texas" was an absolute delight and one of the highlights of the evening.

Bledsoe deserves some kind of Nobel Peace Prize or something. His contributions to the cultural life of Kansas City are enormous, not only through his own extraordinary playing, but because of the many amazing artists he brings to town. One could tell that this was more than just a paying gig for Los Texmaniacs, Mireya Ramos, Making Movies and Slim Hanson. You could hear that this was a special performance, something above and beyond. And I think what drew the very best out of these musicians was their love for Beau Bledsoe.